The 2020 Literary Life Online Conference (viewing instructions are on your receipt)
$42.00
Description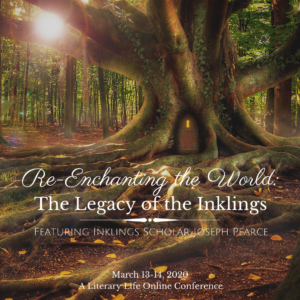 Please Note: Your instructions for viewing the conference LIVE or LATER are on your receipt.
We live in disrupted and disenchanted times. So, for that matter, have many in the past few centuries. How ought to we form our minds and hearts to meet with grace and magnanimity the confusion of the age in which we live? To these questions few modern authors have supplied more living answers than Dorothy Sayers, C.S. Lewis and J.R.R. Tolkien. Join us on [supply date] to discover how these writers and others close to them renewed English fiction and the literary imagination in their day, and what we may yet learn from them in ours.
The Literary Life Online Conference brings the conference to you! Watch LIVE or LATER!
Speakers: Joseph Pearce, Angelina Stanford, Cindy Rollins, and Thomas Banks
March 13 -14, 2020
Session 1: Friday at 7 pm EST   Joseph Pearce  KEYNOTE TALK "Narnia and Middle-earth: When Two Worlds Collude"
Session 2: Saturday Noon EST Cindy Rollins "The Bird and the Baby: The Role of Community and Collaboration in Creativity"
Session 3: Saturday 1:30 EST Thomas Banks "CS Lewis' Swan Song: An Introduction to The Discarded Image"
Session 4: Saturday 3:00 EST Angelina Stanford "The Fairy Tale World of Lewis, Tolkien, and Sayers"
Price: $42 (includes lifetime access to the conference recordings)