How to Read Fairy Tales
$180.00
Description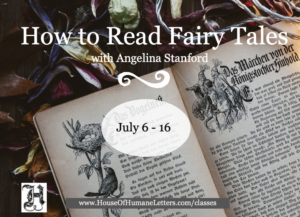 NOTE: You will receive a link to the registration form on your receipt after your purchase.
Fairy tales are universal. We find them in every time and in every culture. For as long as there have been words, people have been telling these stories. Why?
Why do we tell these stories? Why do we share these stories with our children? What is the relationship between fairy tales and great literature? What is the difference between folktales and literary fairy tales? What is the difference between a fairy tale and a cautionary tale? What is the difference between Perrault and Lang and Grimm and Anderson? Why did the Grimm Brothers think it was their Christian duty to collect these tales? But most importantly, HOW do we read these tales of wonder, delight, violence, and weirdness. Discover how the oldest stories are connected to The Greatest Story Ever Told.
Join Angelina Stanford for an in-depth look at Fairy Tales.  When you learn HOW to read fairy tales, you will understand WHY you should read them too.
Links to the tales will be provided. Students will receive a link to join the virtual classroom via Canvas a week before class starts.
Some of the tales covered will include:
Sleeping Beauty
Snow White
Cinderella
Hansel and Gretel
Little Red Riding Hood
Beauty and the Beast
Snow White and Red Rose
Rumplestiltskin

 
When: July 6 to 16. Noon to 1:30 pm EASTERN
Cost: $180
Live or Self-Paced.  (All classes are recorded and are available for both live and self-paced students.