Summer Latin Boot Camp
$180.00
Description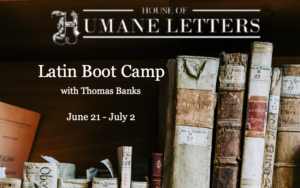 NOTE: You will receive a link to the registration form on your receipt.
The subject of Latin has in recent years come to occupy a prominent place in the education of many homeschool students. Latin is not an "easy" language (are there any easy languages?), and the teaching of it can present certain challenges to one who has never done so previously. 
We at the House of Humane Letters hope to make the teaching of Latin in the home easier. This course is designed to help parents who wish for their children to know something of the language of Caesar, Cicero, Ovid and St. Augustine but are unsure of how best to approach the subject. In ten class sessions, Thomas Banks will introduce the techniques he has learned in his decade and more as a Latin instructor, while discussing the major paradigms of the language, basic sentence forms, and grammatical principles for the benefit of any parent who will be serving as their child's first Latin teacher and wants to make the most of it. No book purchases will be required. There are many Latin textbooks out there, and Mr. Banks will offer instructions applicable to any of the major Latin primers.
Mr. Banks will present this class with the understanding that anyone taking it is new to the game; no previous Latin experience is expected, and indeed, anyone who HAS studied the language formally likely needs no help from Mr. Banks at all. 🙂
Dates: Monday, June 21st-Friday July 2nd, 2021 (No classes on weekends)
Time: 12PM (noon)-1:30 PM EASTERN
Price: $180 
Live or Self-Paced Options. (All Classes are recorded and are available for both Live and Self-Paced Students)